Yesterday was a milestone for the Goyettes at Sweet Bear Farm: the first of Purdy's piglets have gone off to their new home with Natalie and Spencer in Strafford.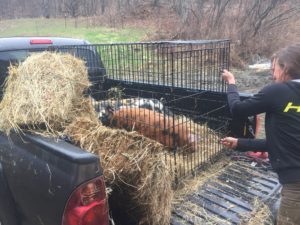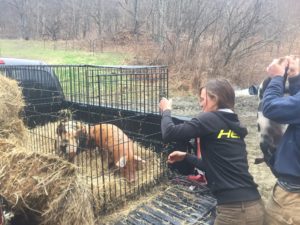 We successfully made it from breeding, through gestation and farrowing, helped Purdy raise piglets to a pretty hefty weight, and sent them off for greener pastures. The first Sweet Bear creatures have been sent forth into the world. We hope this will be the start of a long line of happy, healthy piglets from the farm.
Eleanor was very helpful in the process, directing traffic and making sure everyone was working efficiently. She showed Natalie the pasture and where the gardens will be planted in a few weeks, and demonstrated her now excellent mobility, even through mud.
The adventure continues…