Welcome
Welcome to Sweet Bear Farm. Whether you're just browsing the site, or looking for specific information, we hope you find what you're looking for.
We hope you enjoy the website and check back often for updates and changes. Feel free to contact us with any questions, comments or feedback.
---
Our story:
Sweet Bear Farm is the Goyette family home. We bought the old Perdue place in 2015 and started our adventures from there. When we bought the land, the old house was the only remaining structure, although there had previously been at least 1 barn, greenhouses, various animal housing, and a sugar house.
We set to the task of bringing the land back in to production. Since you can't have a farm without a barn, we kicked off 2015 by adding a multi-use barn. With the aid of Groton Timberworks to cut the frame, and friends and family for a good old-fashioned (although machine assisted) barn-raising, we built a tall posted cape timber frame barn. A few details remain to be completed, we'll get there someday!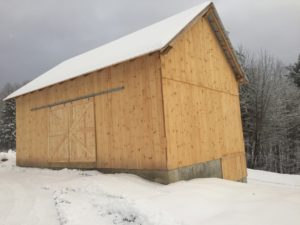 2016 has been a big year so far, in June we added a herd of pigs with the plan of breeding them to supply area farms with piglets, as well as to raise pastured pork, sold by the half and whole pig.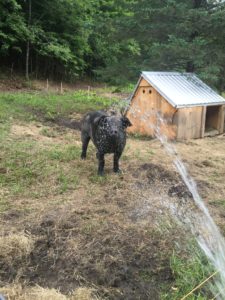 Meanwhile, we are also aiming to start sugar making in Spring 2017. The slab for the sugar house was poured in mid-August and we are getting ready to build the structure.