A word about Forrest. Forrest is our trusty chocolate lab. He came from Ohio as a puppy, and has been with us since the very beginning. He has been through countless moves, a variety of housing arrangements, and has now settled in as the Dog at the End of the Road. Since there is no through traffic here, vehicles arriving are likely to set off a torrent of barking. And knocking or even mere walking through the entry way is cause for much commotion.
When it comes to Eleanor, he has a protective streak a mile wide. And he's exceptionally tolerant of a toddler.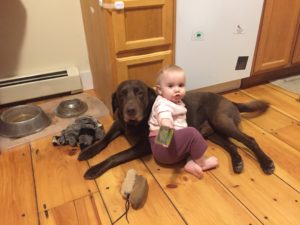 He doesn't get as much cardio as he used to, but Eleanor is good about making sure he gets some walks.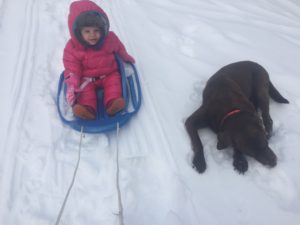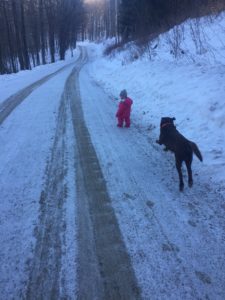 Some days we get frustrated with him when he co-opts Eleanor's stuffed toys, and certainly the amount of fur he sheds all over the house can get tiresome to clean up, but he's part of the soul of our family. With that, I'll go find him on the couch and give him a good scratch before bed.