Pictures are often worth a thousand words, but sometimes a picture won't do justice to what you're seeing. After 18 or so inches of fluffy powder blanketed Sweet Bear Farm today, the full moon rose. The Super Blood Moon. After Eleanor was in bed, I went out to do evening chores and clean up a little snow. Per usual, I strapped on the headlamp, but as I stepped outside, I realized, with the exception of a little barn work, the headlamp was superfluous. As I fed the pigs, dug out their water tank, and brought them a bale of hay (ostensibly for bedding, but let's be honest, mostly to eat – in fact, Rose followed me from where I had fed them back to their house and was reaching between my legs to grab her first mouthful as I was cutting the twine), it was nearly as bright as a cloudy morning.
I'll be honest, there is zero chance I'll stay up another hour to watch the entire lunar eclipse; Eleanor will be up at 5:30, ready to go and unaware that the rest of the world would like to sleep for a few more minutes. But I do see the first shadow as the heavens align in such a magical way. Mother Nature never ceases to amaze me with the strength and power the natural world brings upon us, and in such beautiful ways.
As I was watching Eleanor basking in the snow today, snow that reached well above the top of her little legs, I was struck by the pure and simple joy that is to be had in life if you step back and look at it through the eyes of a 3 year old. Sure, it was hard to move about, but that did not diminish the games and fun to be had. She diligently climbed into the chicken coop to check on Monty and the ladies. She helped me dig out the door to the pig barn so we could access animal feed. And she played king of the mountain on the banks made by the grader (yes, the town plowed with the grader…that's how much snow we had…hopefully they'll come back tomorrow to push back the banks since the road is about 1 vehicle wide at most right now).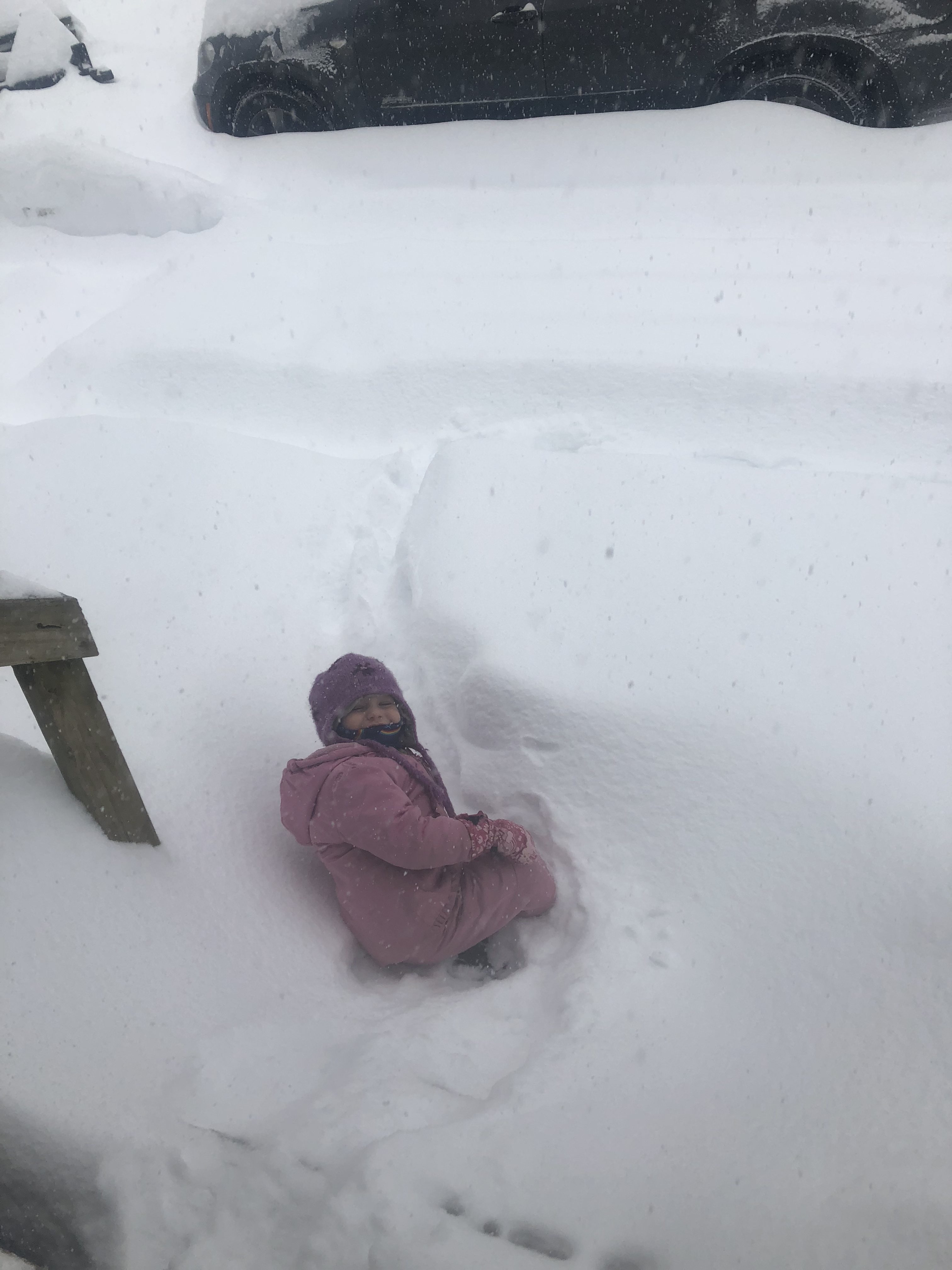 My wish for us all is that we never lose ourselves so far into Adulting that we forget to take time to enjoy the simple pleasures in life, and to "grow down," to quote Jeremiah, and play like a child.